Alexis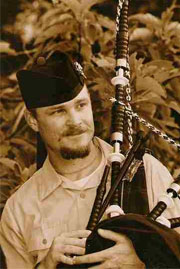 and Charles Kehm have established this Scholarship in memory of their youngest son, Chris, who was the light of their lives. He was a Piper, US Marine, sailor, divemaster, member of the SCV, airboater, 3rd year Engineering student and a brother to all who worked with him at Bell South. Chris put a lot of living into his 32 years!
This Piping Scholarship is to the North American Academy of Piping & Drumming at the Valle Crucis Conference Center, Valle Crucis, North Carolina. The Scholarship will cover one week of instruction, room & meals as well as a practice chanter for  beginners. This award is for beginners, intermediate or even advanced Pipers as the school offers all levels of instruction. Age is unimportant. Preference will be given to Veterans, descendents or relatives of a veteran and members of Clan MacCallum/Malcolm.
ALL applications will be considered. Transportation costs will be borne by the awardee. We are starting with one week of Scholarship, but hope to expand to many more as contributions come in.
For a Scholarship Application, please see link at the left.  Please note: we will not be offering scholarships for the 2022 year as Covid precautions have prevented our fund raising efforts.  Please check back next year.  
Clan MacCallum Malcolm Society of North America Inc. is always soliciting donations to fund these scholarships.  It should be noted that the award funding is sent to the Academy in the winner's name so we are assured that the scholarship goes to its intended use.  If you would like to make a tax deductable donation to this Scholarship fund, you may do so through our PayPal button to the left or by contacting Neil McCallum (clanmaccallummalcolm@gmail.com) directly.